Macro Software Systems LLC has partnered with IFS a Swedish based company for its ERP applications.
IFS develops and delivers enterprise software for customers around the world who manufacture and distribute goods, maintain assets, and manage service-focused operations. We offer applications that enable companies to respond quickly to market changes and use resources in a more agile way to achieve better business performance and competitive advantages. IFS's products are known for being user friendly, modular in their design and flexible enough to support the customers in their way of working according to their established processes.
IFS was founded in 1983 and currently has over 3,500 employees. IFS supports more than 1 million users worldwide from its network of local offices and through a growing ecosystem of partners. The product development is done by our R&D teams, mainly located in Sweden and Sri Lanka, and our consultancy business operate in six areas: Europe North; Europe West; Europe Central; Europe East; Americas; and Africa, Asia, and Pacific.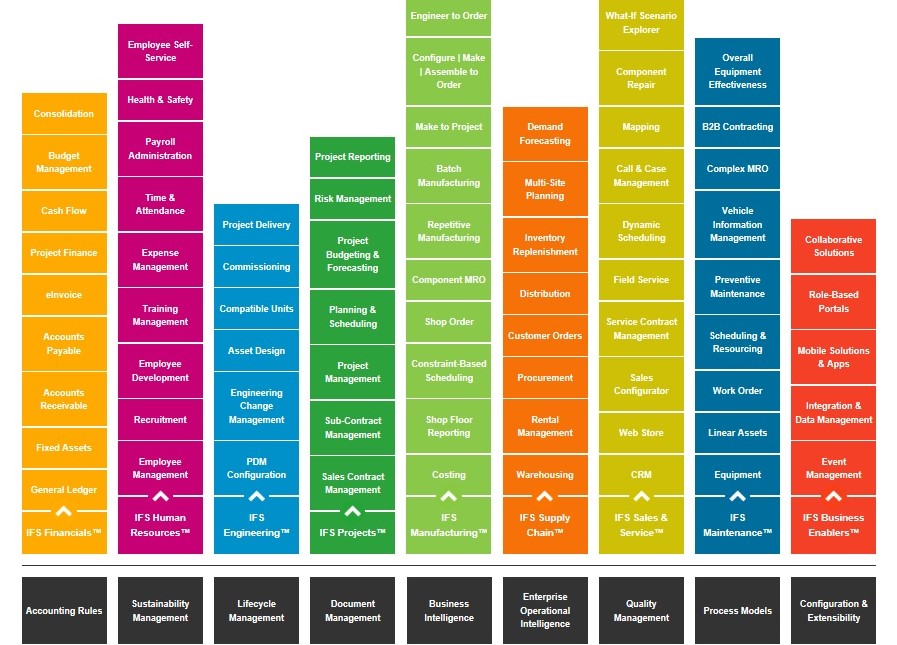 Applications Overview:
IFS Applications is a single, integrated application suite that enables global and demanding businesses to successfully handle four core processes: Service & Asset Management, Manufacturing, Projects, and Supply Chain Management.
Service & Asset Management
Full Enterprise Asset Management (EAM), Maintenance Repair and Overhaul (MRO) and Field Service Management (FSM) capabilities.
Enterprise Resource Planning (ERP) with support for process manufacturing, discrete manufacturing and demanding manufacturing modes.
Project Management is a core component and can be leveraged as Project-driven ERP, Project Portfolio Management (PPM) and more.
As a support function for ERP and EAM or as a powerful logistics solution in demanding environments like aviation and defense.
Full-Suite ERP
IFS Applications includes financials, human resources, quality management, document management, customer relationship management (CRM), business intelligence, sustainability management and other core functionality to facilitate full life cycle management of products, assets, customers, projects and more. Explore our product with this interactive graphic: